Agriculture: Vietnam food export to the key markets: Just quality is not enough
To put products into strict markets, the story is not just about the quality of products. It is necessary to have an international consulting firm who understands the legal procedures to put Vietnamese products into Japan, the United States markets.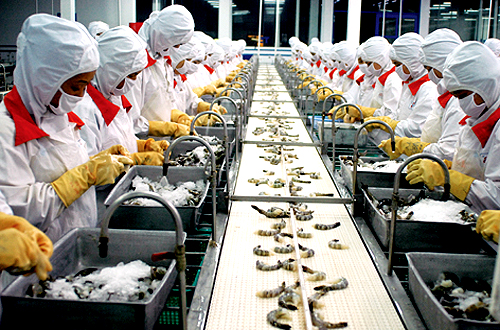 Recent figures published by the Ministry of Agriculture and Rural Development revealed that in 2015, shipments of exporting agricultural and aquatic products violations were detected when inspection and certification of food safety increased. In the first 9 months of 2015, there have been 165 plots of export aquatic products violating food safety regulations and 78 plots violating the provisions of antibiotics.
Report by Veterinary Authorities also pointed out another important reason that exporting agricultural and aquatic products were returned due to incorrect packaging specifications, false labeling information. According to an agriculture expert, Prof. Vo Tong Xuan, many agricultural and aquatic product exporters lacked access to fully information, requirements from the importers, and the associations have not given fully solutions and information.
"Exporting agricultural and aquatic products of Vietnam returned were not only caused by quality but also because enterprises did not understand properly all the requirements related to packaging, design, packaging product. Enterprises aiming to penetrate into strict markets such as Japan, the United States need to work with international consulting organizations who understand the legal procedures to advise them", Prof. Vo Tong Xuan said.
From corporate point of view, Ms. Nguyen Thi Thu Thanh, Deputy Director of Sustainable Seafood Co. (Khanh Hoa) – a seafood exporter to the US market for over 10 years, shared that: in order to get the products the US market, exporters must be honest when providing goods information, ensure product quality, especially note the labeling process, packaging products requirements of US companies. Ms. Thanh also informed that export into the US market has increased sharply recently, export earned $ 1 million in 2013, this figure increased to 1.2 million in 2014.
In the case of Long An Food Processing Export Joint Stock Company (Lafooco), the orientation of Lafooco is to put the individual materials and finished cashews, finished peanuts to the key markets such as the US, Japan, Europe ... Lafooco determines that they will penetrate into the above markets by their own brand instead of accompanying other importers' brands.
However, to export products into strict markets such as the United States, Japan, Europe, the story is not just about product quality, but the procedures of food safety products, distribution, etc. are also very important. Therefore, Lafooco's representative shares that they now seek advices from GFSF (Global Food Safety Forum) – a non-profit organization on food safety based in the United States, for further consultation for the objectives of the company.
With over 400 members, including organizations and companies in the agriculture and aquatic in the world, GFSF can lobby and understand the legal procedures, commercial connections to choose the most efficient way to access strict markets.
Ms. Nguyen Thi Tra My, Chairman of CSC Vietnam - strategic partner of GFSF in implementing programs in Vietnam, said GFSF's objective is to create a platform integrating governmental departments, public organizations with enterprises, to improve the food safety situation in Vietnam and support to promote the export of Vietnam food products into the international market. As a Board of Directors' member of The PAN Group, which owns the leading enterprises in agriculture, food such as NSC, LAF, ABT, Bibica ..., CSC Vietnam expects to connect Vietnamese firms and the Forum in Vietnam.
"Vietnamese enterprises need a creditable address to get professional advice about how to build or change their products strategy, how to fit the requirements of the market in developed countries such as the US, Japan, Europe ... Thereby, firms can increase exports and reduce risks that may arise in trade disputes due to the quality of food safety while exporting to these markets", Ms. Tra My recommended.
Related news: