Brainsy, Inc. Adds Tra My Nguyen to Advisory Board
Brainsy, Inc. today announced the addition of (Ms.) Tra My Nguyen to its All-Star Advisory Board. Brainsy powers online knowledge sharing networks for private companies, trade associations, professional societies and other membership organizations.
"Brainsy is honored to have Tra My Nguyen join our advisory board," stated Brian Christie, CEO of Brainsy, Inc. "Tra My is an accomplished entrepreneur and she has helped build successful companies in multiple industries – some listing publicly, employing thousands of employees and reaching markets of South East Asia, Japan, Europe and North America. Her guidance, as we explore consumer demand from international markets, will be greatly valued."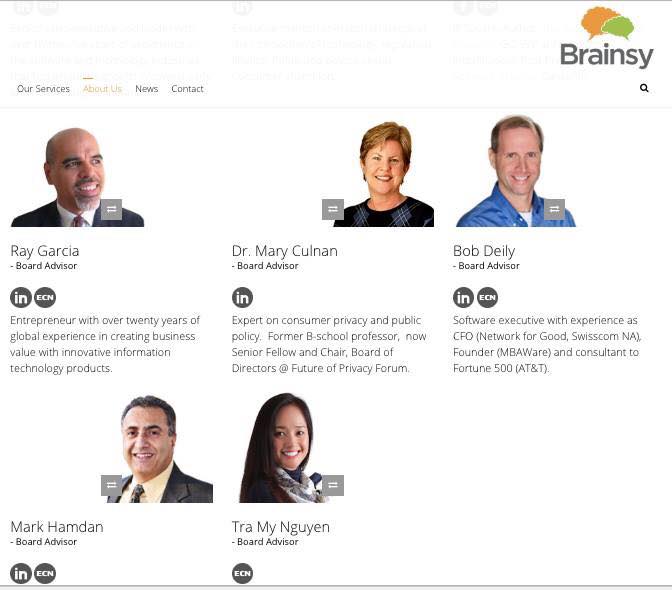 Social media platforms around the world continue to grow with Facebook claiming nearly 1.8 billion monthly active users, TenCent'sWeChat (China) boasts approximately 850 million users, Twitter has nearly 320 million monthly active users and LinkedIn (acquired by Microsoft) counts over 100 million monthly visitors (450+ million total members). Brainsy's Expert Calling Network (ECN) platform integrates with many leading platforms but stands in stark contrast to them all by offering the only identity-verified network with a direct pathway to monetization for participating experts.
"I'm pleased to be advising a company pushing the boundaries of the knowledge economy and working to make right, broad expertise and knowledge much more easily sought for," stated Tra My Nguyen. "Brainsy's unique revenue sharing model ensures that membership organizations can earn non-dues revenue when deploying a Brainsy ECN under the organization's own brand – and these branded networks can be accessible to consumers anywhere in the world.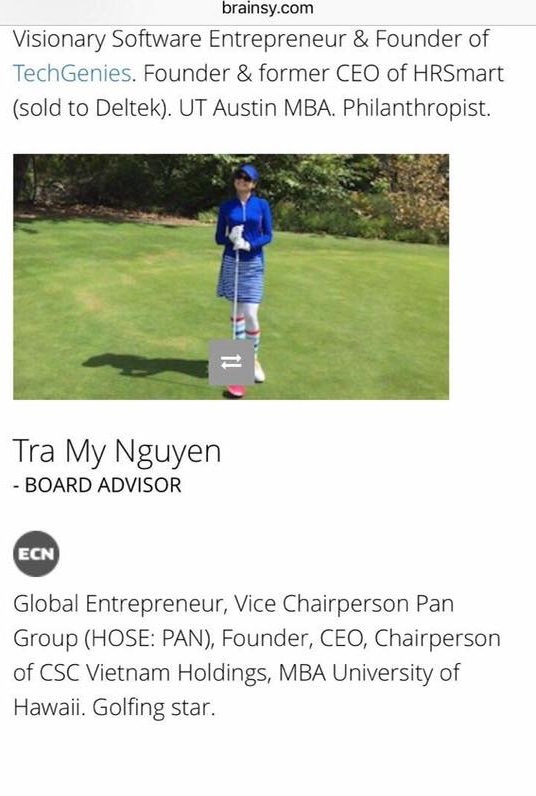 About (Ms.) Tra My Nguyen:
Tra My Nguyen is a global entrepreneur and Vice Chairperson of the 7,000-employee Pan Group, Chairperson of Pan Farm and Pan-Saladbowl, Board Member of National Seeds Corporation, Ben TreAquatex JSC and BioSpring JSC.
Since 2007, she has been the founder, CEO, and Chairperson of CSC Vietnam Holdings. Her professional work and interests span agricultural businesses, real estate, and educational ventures.
She holds a Bachelors Degree from the Foreign Trade University of Vietnam and an Executive MBA Degree from the Shidler College of Business, of the University of Hawaii, where she received a Hall of Honor Awards in 2016.
About Brainsy, Inc.:
Brainsy offers patented Software as a Service (SaaS) to power knowledge sharing networks for private companies, trade associations, professional societies and other membership organizations. Deploying a Brainsy powered Expert Calling Network (ECN) under their own brand, organizations can showcase mentors or subject matter experts while earning non-dues revenue. Brainsy is backed by successful entrepreneurs-turned-Angels and is a portfolio company of TomorrowVentures, founded by Alphabet (formerly Google) Chairman, Eric Schmidt. More information is at: http://www.brainsy.com
Source: Brainsy.com, 04th January 2017
Related news: